Chapter 9: Social Analytics & Reporting
Monitoring and Analysis for Beginners
Analytics is an industry unto itself and can require significant investments of time, training and money. But there are some free and basic ways to look and listen that will help you make strategic content decisions for personal and brand social channels.
Monitor yourself or your brand. Sign up for Klout as one measure of social influence. If you give this tool access to your social accounts, it assigns an influence score out of 100 and gives you a list of a list of the topics where you show expertise. It provides other services as well, but it can serve as one free and easy metric to see where you and other accounts of interest stand. It also offers a Chrome extension that adds Klout scores in Twitter so you get a quick gauge of each account's level of influence. (See the orange bubbles below)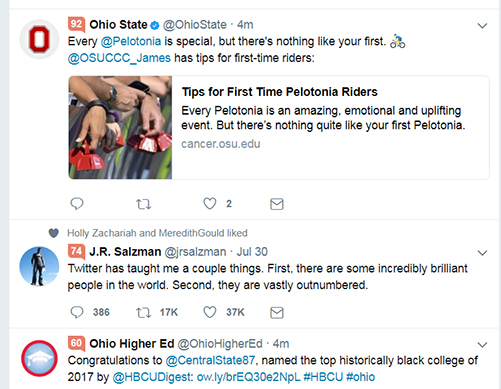 Begin using the free version of a social monitoring tool like Tweetdeck, Buffer and Hootsuite. Explore options to set up search terms, create streams to organize information like news sources or competitors. Take a closer look at your followers and how they engage with you or your brand. Consider existing and potential influencers. Look at content posted by competitors, others in the same market or just brands or people that you think do a great job.
Familiarize yourself with the metrics terminology: vanity measures, impressions, engagements. This Social Media Examiner article shares the 10 Metrics to Track for Social Media Success and a Hootsuite article explores "Do Vanity Metrics Matter on Social Media?" Be sure to stay on top of industry changes, because the ever-changing algorithms and rules of social media platforms impact metrics. For example, Twitter's movement away from putting posts in chronological order toward a timeline that gave more weight to certain tweets and users changed the game of posting to Twitter at the "optimal" time of day.
Jump on any opportunity to do social work for a brand or company and bring analysis and strategy to the table, not just good content.
Take classes, tutorials or seek out other ways to gain experience with measurement tools. YouTube, Lynda.com and Google are just a few of the training grounds available.
Google Alerts: ask Google for a notification when you or your company or other search terms are mentioned online.
Keep an eye on industry resources like Sproutsocial.com, Socialmediaexaminer.com and Mashable.com to stay current on what's changing or new in the world of social.