Chapter 9: Social Analytics & Reporting
This step in social media messaging completes the four-step process and leads right back into creating or revising up front, content or community management strategies. Analytics also carry weight beyond suggesting social strategy improvements or reporting on the return on investment of social efforts. Social media channels have the ability to impact many areas of an organization: customer service, human resources, public relations, advertising, branding and more. For this reason, brands should be critically watching and listening in the social media space regardless of how active they want to be in contributing content. The rise of online social networks means that public relations needs to be focused, more than ever, on listening to help facilitate conversations between organizations and their publics.
Listening, monitoring and analyzing range from casual searches for people, conversations and industry resources such as Mashable and TechCrunch to extensive and expensive analytics using robust paid software.
The Ohio State School of Communication uses software to gather ongoing analytics on its Twitter account. For example, this word cloud gave a moment-in-time snapshot of the most engaging content and helped show what conversations gained traction – information we could leverage in future strategies.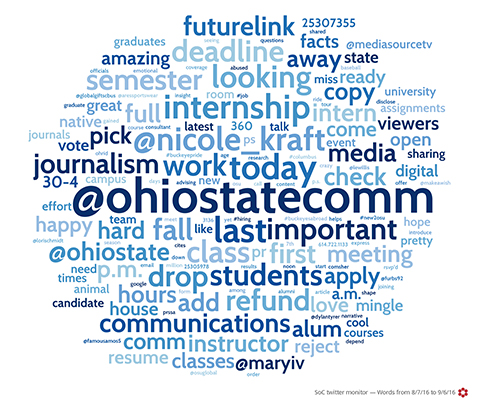 Analytics software is another way to identify top influencers who interact with accounts, as well as gain geographic and demographic data on your audience. In addition to these and other metrics on who interacts with content, analytics can offer valuable insights into what your competitors are doing or provide key information to help you target untapped audiences. When guitar maker Fender realized its customer base and social media following skewed male, the company decided it needed to do more than analyze its existing female audience or even its competitors' female audiences. It teamed with social analytics software Crimson Hexagon to identify where female guitar players are, what they talk about, what their interests are and other information. This allowed Fender to execute a larger and more targeted strategy to expand into the female market.
Even without paid software, there are many ways to monitor and analyze in the social media space.