Chapter 3 Contemporary Music and Social Movements
by Muhammad Mansour
An immense classical repertoire in conjunction with cultural dialogue with the West formed the foundation for Turkey's contemporary music. There are tensions, however, between different views on music and how it ought to play a role in Turkish society. Islamic theology, for example, has been a factor in judgments about the place of music in society. According to the most influential school of Islamic jurisprudence in Turkey, the Hanafi School, "if the instruments themselves are not unlawful, such as the bamboo and tambourine, then there is nothing wrong with that…" (al-Kasani). The Ottoman Empire, and subsequently Turkey, produced a rich and diverse musical landscape within certain restrictions imposed by Islam.
Arabesk music was an important genre which aided Turkey's transition to modernity. It was most popular from the 1960s through the 1990s, when the country experienced many social upheavals. Arabesk was a mixture of Turkish folk music with of Arabic and Kurdish musical sounds and styles. The music was linked to urbanization, as the migrants who were traveling from the Turkish provinces to larger cities created arabesk to express their experiences. The gecekondus (shanty houses, literally 'built overnight') came to designate a specific urban population and culture. Arabesk music and the gecekondus had a significant impact because the music expressed the desires, frustrations, and powerlessness felt by migrants and the urban poor who resided in them (Yildrim,2017). Gecekondu dwellers used Arabesk as a way to express their emotions through sound, rather than words. The lyrics themselves were not explicitly political; they were usually about tragic love.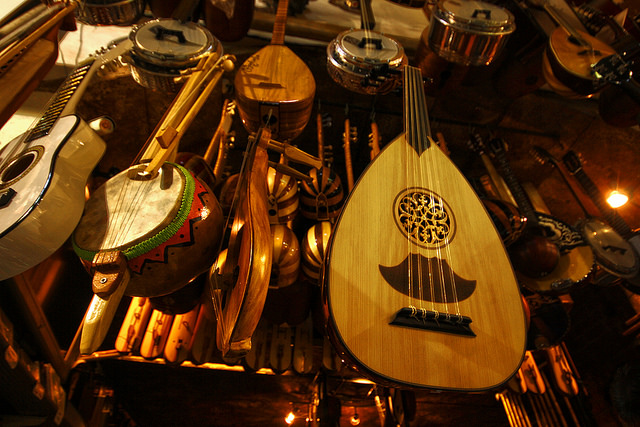 Other contemporary Turkish music genres include pop, rock, hip hop, and jazz. Pop music had its beginnings in the 1950s, as did rock music evolved during a time when Turkey began to undergo significant social changes. Western melodies were mixed with Turkish rock music and released to the public. Notable performers of the 1950s include Ilham Gencer, who won the best composition award for his spectacular piano playing. Ajda Pekkan has been a very popular singer and actor since the early 1960s. Mogollar was a group that consisted of five young musicians who sang Turkish folk songs and used old style musical instruments. This group of young musicians gave a new sound to Anatolian pop.
Turkish hip hop music started with Turkish migrants in Germany in the 1960s and then later came to Turkey where it had a profound impact. Hip hop lyrics are usually about experiences of street life in the ghetto. Much like Arabesk, new urban migrants who brought their village culture to the city developed a domestic subculture in which hip hop could flourish. Hip hop has become very popular amongst Turkey's youth.
Eurovision is an annual international TV song competition that has been taking place since the early 1970s. Turkey's involvement in Eurovision allowed Turkish music to reach other parts of Europe. It was beneficial not only for Turkey but also for the rest of the European nations because it gave both sides a taste of diverse musical sounds. Eurovision gave Turkish artists a way to express themselves and show their talents to the world. Turkey won Eurovision in 2003; Sertab Erener won for his song "Every way That I Can."  Turkish band Athena performed "For Real" in the following contest, which took place in Istanbul in 2004.
Like anywhere, music has played a central role in social and political movements in Turkey. There were three coups that took place in Turkey, in 1960, 1971, and 1980. Turkish music was used in all of them as a voice for the people. Famous musicians expressed their political thoughts through music. Songs had hidden meanings and showed that no one was alone during these times of crisis. However, music has also been used for political means by politicians; for example, Prime Minister Turgut Ozel officially endorsed Arabesk music in the 1980s in order to reach an untapped pool of voters in the gecekondu districts (Stokes, 2010, p. 93).
Homosexuality has been lawful in Turkey since the mid-1800s, and transsexual individuals were granted the right to change their lawful sexual orientation in 1988. Bülent Ersoy is a transsexual performer regarded as one of the most popular singers of modern Turkish music who suffered from government discrimination and a ban on her performances in the 1980s, prior to a change in gender identity being legalized (Selen, 2012). Yet LGBTQ performers continue to face discrimination and are the target of government suppression in the country. In 2015, Turkish authorities used water cannons and tear gas against performers in the LGBTQ Pride parade. According to human rights group Transgender Europe, Turkey has the highest rate of reported murders of trans people in Europe (Transgender Europe, 2016).
In recent social movements such as the Gezi Park protests of summer 2013, music mobilized people across the country, along with other art forms. Hundreds of songs were written, for example, to raise awareness about police brutality. Many of these songs took aim at the government, and especially the economic and political conditions that marginalized people in Turkey live with every day. Music was also a way to create and maintain solidarity among the protesters.
During the 2016 failed coup attempt, sound was used by the government to have a social impact, ut instead of popular music, it was religious. The government asked mosques to project the call to prayer while the nation was under attack as part of its call for citizens to confront and defeat the soldiers attempting the coup (Gill, 2016).