"Let me live, love, and say it well in good sentences."
Sylvia Plath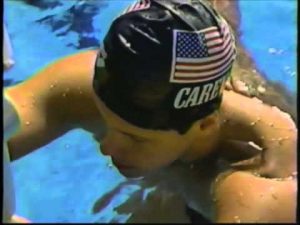 Rick Carey failed to break his own backstroke world record in the 1984 Los Angeles Summer Olympics, but he helped make me a feature writer.
I was 16 and a junior in high school. I watched on television as Carey captured his first gold medal in the 200-meter backstroke in spectacular fashion — and then he pouted. He had not broken his own world record, and it showed in the slump of his shoulders, his hooded eyes and the downturn of his mouth.
It prompted a media outcry.
It made me wonder what exactly he was thinking.
So a few months after the Olympics I called 1-914-555-1212, information for Mount Kisco, N.Y., where Carey lived with his family. The phone number was listed under his father, Jack. I called and asked for Rick, and when he got on the phone I told him I was a high school journalist from California who was hoping for an interview.
He and I talked for 30 minutes, and a career was born.
In the years since that first interview, I have been lucky enough to write far more features on people, places and events, trends and controversies. Each one has been driven by one singular desire: to find the depths of a story and share it with other people.
It's not easy defining a feature. Most people can agree features are articles built from facts that include a level of narrative and information gleaned from talking with human sources. But Wikipedia, for example, defines the feature as "a piece of non-fiction writing about news also known as 'soft news'." The entry cites the Pulitzer Prize criteria that states features are "distinguished by the quality of their writing" and should be memorable for "their reporting, crafting, creativity and economy of expression."
I don't disagree, because defining a feature needs more.
In features, the facts ride in on waves of scenes and true stories called anecdotes to show characters having experiences and living life. Features can go behind the news and unpack it for readers so they can understand more than the who, when and where. They engage with the how and why of news. They are filled with color and emotion, they show with description rather than tell the facts.
There are many who feel features are fluffy, and they can be when handled without care, where clichés overwhelm crafting and that can often be the struggle for young journalists starting out. For the most part, the people who succeed are the ones who do their research, do solid reporting and care about their writing.
And that is the goal of this book.
Students often struggle with how to break free from the moorings of their previous writing experiences — be it coming from the rigidity of academic writing or the formulaic nature of introductory news writing. The key to features is identifying and recognizing the power of storytelling and what a story can be.
We have gathered in this book advice from some of the best writers we know, with the goal of creating a guide for writers who are new to features. We will walk you through finding ideas, working with sources, writing narratively and anecdotally, and how to marry fiction techniques with nonfiction reporting and writing.
In the words of Columbus Dispatch special projects reporter Mike Wagner, "The secret is just training your brain to look for great human stories that are going to potentially have an impact or are going to draw people in. My goal with any feature story is to inspire someone or make someone go, 'Damn, I can't believe what they went through. I can't believe they got through that.'"