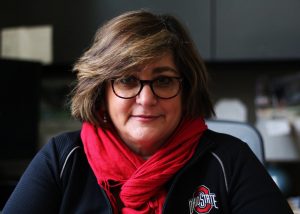 Dr. Nicole Kraft spent 25 years as an award-winning reporter, editor and magazine journalist while also working in public relations for professional sports and government communications.
She joined the Ohio State School of Communication in 2010, where she teaches Media Writing and Editing, Sports Media, Feature Writing and Media Law and Ethics. As an associate professor of clinical communication, her research focus includes the academic use of mobile technology among student-athletes, mobile technology use in journalism education and using technology to enhance classroom communication.
Nicole is the director of Ohio State's Sports & Society Initiative and chair of Ohio State's Council on Distance Education, Libraries and Information Technology. She remains an active sportswriter, covering the Columbus Blue Jackets, Ohio State basketball and horse racing for the Associated Press and The Columbus Dispatch.
She is the author of the book, "Always Get the Name of the Dog," published by Routledge and available through Amazon.
Nicole earned a bachelor's degree in political science from Temple University, a master's degree in communication from Ohio State University and a doctorate in educational leadership from Lamar University.
She was named an Apple Distinguished Educator in 2015.