Chapter 3: Defining Our Terms and Direction
3.2 From the Garden to the Culture: More Food for Thought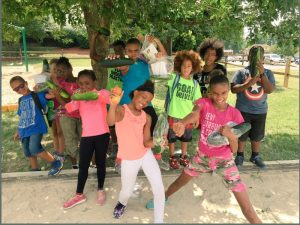 By now, we have added a number of ingredients to the pot, and I like to assure my students that if all of these points don't seem to connect like a dot to dot not to worry – we will add still more ingredients to simmer, and we'll use the whole book to let the full flavor develop. Pollan raised up a gardener ethic as a suggestion of how to overcome nature being opposed to culture in America, to encourage more of a marriage of nature and culture (drawing on a bit more culture, not less). Where Thoreau said "in wildness is the preservation of the world,"[1] Pollan channels Wendell Berry to claim, in contrast, that "in human culture is the preservation of wildness."[2]
This echoes what Colin Beavan says in his book, No Impact Man, which was the Ohio State Buckeye Book Community selection for freshman book in 2010. In his author talk to OSU students, Bevan assumed his audience already knew the book's story of how he and his family managed to live with no net environmental impact for a year in Manhattan, so he instead focused on the key lessons he'd learned from trying to live with minimal environmental impact. One of the main motivations he said had propelled him into action was not just a reaction to environmental crisis but his frustration at his own inaction. He was sick of his comfortable and easy pretension of helplessness. "Am I really helpless? Is it true that a guy like me can't make a difference? Or am I just too lazy or frightened to try?"[3] He decided to change his own life when he realized that his culture and his own self-centeredness were leading him to believe that he was powerless to effect change. Recognizing the gap between the environmental values he held and his own environmentally impactful lifestyle, he challenged himself by asking whether he was at least willing to try to live according to his own environmental values. In doing so, he took a slightly different approach than just trying to reduce his impact:
"Instead of just thinking, How do I live without harming the environment?" Beavan said, "I find myself asking: How shall I live?…What will it all count for when I'm gone?…What is my life really for?…These questions are so important, because we live our lives on the assumption that the way to happiness is to fulfill our desires. What if we kill the planet filling our desires and then discover that that's not what we were here for? Isn't this worth stopping to figure out?"[4]
Beavan also concluded – even as he embarked on many lifestyle choices that bucked the American, consumerist norm – that his efforts to live sustainably, if they were to have any ripple effect on his culture, would need to embrace culture. He said he recognized that it is easier to say that our culture should be more sustainable than to actually make it that way. He decided "it might be easier…to understand the challenges for our culture in solving our environmental emergency if I didn't repudiate the culture."[5] This approach is in contrast to some of the counter-cultural roots of the environmental movement, and it certainly contrasts the impulse to blame culture or religion, as with proponents of the White thesis. What Beavan, Pollan, and Leopold all suggest, rather, is to shift, rethink, and re-feel culture instead of throwing the baby out with the bathwater. This is what Lynn White recommended in the conclusion of his famous article, where he commended the spirituality of St. Francis to point a direction, distinctly concluding that a Western, biblical view was not somehow inferior as a basis for environmental care. The environmental movement[6] and various champions of the supposed White thesis all but ignored these suggestions, preferring instead to promote a position of blame and repeal, one that often also proposed beliefs like biocentrism or deep ecology as the only sufficient ideologies to support environmental ethics.[7] One legacy of these condescending, elitist approaches is the continued resistance of many Americans to allying with environmentalists. Particularly in a time when the American political climate is as polarized and partisan as ever, rather than continue to promote ideologies that seek environmental progress by proclaiming their superiority to other views, environmental care could gain much wider support by empowering Americans' existing values.
Perhaps a reappraisal of the value of a gardener's hands-on, connected, responsible and respectful approach as well as the well-suited teachings of American religious communities (yes, including Western, biblical religions) could be more important than previously realized for environmental care in America. Where Earth care is concerned, those who insist on preaching that "western/developed is bad, while eastern/indigenous is good," would seem to be antagonizing a powerful ally for creation care. Biblical views – especially for those 70-80% of Americans who self-identify with biblical traditions – could be a profound platform for gardener/earthcare/environmental ethics that are already suited to the majority of Americans, who needn't convert to a new ecocentric or Eastern religion to be gardeners and environmental caretakers. If religion is as influential in shaping thoughts as its detractors seem to fear, that is all the more reason to empower the environmental ethic and positive tenets of belief systems that people already hold.[8]
---