8.1 Acknowledging Bias Against Women
Laurie Belknap DO and Camilla Curren MD
Understanding Bias  Against Women in Professional Settings in Medicine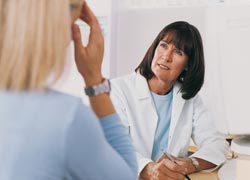 Bias against women can impact healthcare in many ways due to the multiplicity of interactions in which women engage, both in providing and in seeking care. As we begin to understand how bias can affect women in health care, consider this situation. A group of academic medical faculty is meeting to discuss program development and the design of a new curriculum for a college of medicine. The group consists of professors of several ranks, all physicians.  As the meeting begins, the program organizer sets the stage by asking the members to introduce themselves and to give a brief description of their roles at the University and in education. Addressing one of the men, the organizer asks, "Dr. Stevenson, please tell us a little bit about your background and teaching interests." Addressing one of the women, he asks, "Nicole, please tell us about yourself and your role here."
Do you think this is an uncommon scenario? What messages are being sent to the group by this person's choice of language and tone? What messages are being sent to the women present about their importance and position in the group and in the project overall?
Bias against women is unfortunately common in the medical workplace. One study suggests that women perceive this bias in the academic medicine climate as creating obstacles to professional development. 1 Looking at styles of introduction by a speaker for presenters in formal medical grand rounds at one academic institution, one study suggested that speaker introductions can reveal implicit gender bias.2 According to this study, professional titles imply the perceived expertise and authority of the individual, and the use of less formal first names only for introducing women, in particular, can marginalize the individuals, demean the professional status of women, and reveal underlying gender bias held by the speaker. Gender bias is noted by the authors to be the main driver in gender disparities in academic medicine.2
Attitudinal bias can also pose challenges to work-life balance, professional productivity and academic achievement for women. As of 2016, women were noted to earn 90 cents for every dollar earned by men in academic medicine.3 One study found that while productivity levels of men and women faculty were similar, women were more significantly affected than men by a negative departmental climate or lack of departmental support.4 Another recent article noted that while the number of women and men in medical training and academic medical professions is approximately equal, the number of women in leadership positions is still relatively few.5  The article suggests two main theories that stem from attitudinal bias and describes the "glass ceiling" and "leaky pipeline" as analogies for a lack of advancement to leadership by women faculty. The "glass ceiling" theory suggests that institutional culture limits the leadership opportunities for women, and the "leaky pipeline" theory suggests that work-life balance challenges, lack of mentorship, and lack of leadership training contributes to attrition that limits the advancement potential for women. 5
The Glass Ceiling in Leadership for Female Physicians w/ Drs. Joanne Turner and Laurie Belknap – YouTube Video
For women, clinical professional opportunities can also be limited by attitudinal bias. One study examined reasons why the specialty of orthopedics has the lowest percentage of women practitioners of all the medical specialties. The study found that women medical students lacked mentorship in Orthopedics6, and that gender bias was found in residency interview questions more often for women applicants than for men.76Yet another study examined the reasons why women are underrepresented in surgical specialties in the United States.7  The article noted several potential reasons for this underrepresentation, including gender bias resulting from the hiring practices of surgeons in previous generations, high attrition rates of women during surgical training for careers, and less achievement of academic goals such as publications and grants, as well as slower progress toward promotion.8 Data from the American Association of Medical Colleges showed that women are less likely to advance to leadership positions; one study estimating that it won't be until 2096 when women achieve 50% representation as full professors of surgery.9 Interestingly, one study suggested departmental differences, with more primary care women faculty reporting feeling unwelcomed than men.10
Interprofessional bias against women can also be found in medical training. One study found that both male and female nurses rated male OBGYN residents consistently higher than women residents on evaluations.11 Health professions students rated a male voice as being more effective at teaching than a female voice in an evaluation of different faculty voicing an identical online teaching module.12  An electronic survey showed that women surgeons preferred having female colleagues over having male colleagues.13
Gender Bias in Physician-Patient Relationships
For women as clinicians, bias can come from patients as well as colleagues.
A news story about the recent all-female graduating class of surgical residents from the University of Rochester describes challenges faced by the residents. The women describe common misperceptions about the care team, such as the conclusion that the tallest male in the group was the person in charge. One resident described a story in which she was involved in the lifesaving care of a trauma patient, only to have the patient request to speak to the male intern when she checked on him in the recovery unit.9 And a recent meta-analysis of medical trainee abuse in several countries identified being a female student as a statistically significant risk factor for increasing the risk of sexual or gender-related abuse by patients and patient families.14
Bias against Female Patients: the Cost of Care
While women healthcare providers can face professional challenges, bias against women can also negatively affect women as patients seeking healthcare.  One study noted that women presenting to the emergency department with chest pain and an acute myocardial infarction had their symptoms minimized and triage protocols delayed by emergency department nurses15 Women had longer door-to-protocol activation times than men for ST-segment elevation acute myocardial infarction.16 Another study demonstrated that patients with chronic obstructive pulmonary disease were treated differently by primary care providers based on gender and that diagnostic and therapeutic efforts by both male and female physicians were lower for female patients.17 Another study demonstrated that male patients were more likely than female patients to receive physiotherapy and chronic pain assessment by a multidisciplinary team at a Chronic Pain clinic.18 Men were more likely than women to have CDC compliant care and detailed medical record documentation of symptoms when seen in the emergency department for sexually transmitted infections.19 One study found that, among patients 50 years of age or older with similar illness severity scores, men were more likely to be admitted to an Intensive Care Unit (ICU) and to have aggressive lifesaving procedures than were women; women were more likely to die of their illnesses than were men.20 Stereotyping and gender bias may further disparities in healthcare delivery for women, and impair social interactions between patients and providers, especially for black women and ethnic minority groups.21 Similarly, these or unmeasured factors were thought by researchers to contribute to study findings among ICU patients; study authors also cited the differences in women's health care decision-making as compared to men's as a potential contributor to results.20
Pamela McCarthy, a lifelong social worker, notes that "Communication is different  when the patient is female."  As a patient in outpatient and inpatient settings, McCarthy emphasizes that she places a great value on being a collaborator in her own care, but notes that her opinion is not elicited as often as was that of her husband when he was a patient, and when complex healthcare issues were involved.  McCarthy notes that women are relational, and that thorough, deliberate communication with female patients should be a goal in order to prevent them from feeling condescended to or dismissed.  These feelings, she believes, make some her colleagues and clients avoid healthcare settings lest they feel "judged".  McCarthy also notes that, since women are often responsible for family care needs, this behavior can be deleterious to a number of people in addition to the patient.
Pamela McCarthy, Exec Director of Central Community House – What Happens When Women Are Alienated from Seeking Healthcare – YouTube Video
Strategies to Acknowledge and Reduce Bias Against Women in the Workplace
From review of the current literature, communication and cultural competence is key to acknowledgment of attitudinal bias. For women in academic medicine and science, clear communication and directly addressing gender bias can often be effective.
Strategies to Acknowledge and Reducing Bias Against Women in the Workplace w/ Megan Letson MD – YouTube Video
In some academic medical institutions, development of leadership skills for both male and female  faculty and departmental leaders can improve the overall climate for women, formalize promotion and work duty structures, and mitigate perceptions of discrimination.1 Data from the article suggested that medical schools could also promote and retain more women faculty by improving professional interactions and networking between men and women faculty.1
What Happens When the Gender Bias is Not Addressed w/ Joanne Turner PhD and Laurie Belknap DO – YouTube Video
Improvements in patient care delivery could result from providing training in cultural competency and increasing knowledge of healthcare disparities in women. Gender bias is evident and creates disparities in multiple health care areas including cardiac and critical care, behavioral health, stroke, osteoarthritis, pain management, organ donation and transplantation, and trauma patient triage. The glaring discrepancies appear significant and impact the lives of women. Acknowledging that gender bias exists may be the first step in reducing or eliminating it.22, 23   Creating educational activities and curriculum for medical care provider trainees to recognize the disparities in healthcare created by bias, and to assist in efforts to minimize gender bias for patients, are other ways to reduce inequities and disparities that result from discriminatory and biased care for women and which are detrimental. 23