Chapter 10: Finding and Making News
How the Pros Do It: Ohio For Responsible Gambling
Ohio made sports betting legal in January 2023. Ohio For Responsible Gambling launched a campaign to promote responsible sports wagering to help connect people with available toolkits if they or someone they knew had a potential problem.
Irvin PR partnered with ORG to help people understand the scope and scale of problem gambling in Ohio and where to go to identify problems for themselves or others they know.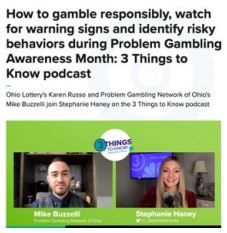 The legalization of sports betting made this campaign timely and local, but Irvin PR also gathered information on the scope and scale of problem gambling in Ohio. They found that the number of calls to Ohio's Problem Gambling Helping had gone up each of the last five years and nearly tripled in January 2023. Research showed callers were getting younger and that the amount of time spent playing before realizing there was an issue went down, signaling that the behavior was becoming more addictive. This data showed the significance and impact of the ORG campaign.
Irvin PR then considered the human interest news value and compiled personal anecdotes from people who lived with addiction or were impacted by people living with this issue. They explored efforts and research to combat problem gambling and had statewide experts available to talk to media.
The campaign received 322 media placements during the first three months of 2023 and achieved the objective of appearing in every major Ohio media market (Columbus, Cincinnati, Cleveland, Dayton, Toledo, Youngstown).
View the complete Irvin PR case study for more information on this campaign.