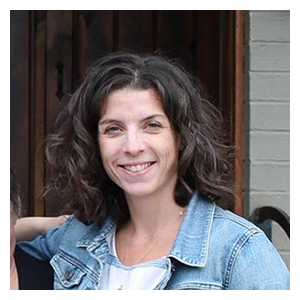 Mary Sterenberg is a lecturer with the Ohio State University School of Communication and co-advises the Public Relations Student Society of America chapter and its student-run public relations firm The PRactice at Ohio State. She teaches writing and public relations courses such as writing for strategic communication, strategic message design, strategic media planning and public communication campaigns. Beyond the classroom, she works closely with local employers to create internship and career pipelines for Ohio State communication students, and meets often with students to critique resumes and foster connections between students and local professionals. She also supports communication for the School of Communication, managing an intern, social media and web content.
Mary came to Ohio State in 2011 after nearly 10 years working in health care public relations with the Ohio Hospital Association. During her time at OHA, she managed a daily email newsletter sent to thousands of hospital leaders, media and legislators, contributed to several statewide advocacy campaigns and launched the association's social media presence on Twitter, Facebook and LinkedIn. Prior to her work at OHA, Mary worked in print news media.
Throughout her career, Mary has freelanced for publications such as The Columbus Dispatch and Columbus Monthly. She continues to freelance for Columbus CEO and has edited several books for Hyden Consulting. When she's not working with students and writing, she's wrangling her three kids and playing soccer mom (yes, in a minivan).
Mary earned her bachelor's degree in journalism from Ohio Northern University and her master's degree in journalism from Ohio University. Feel free to email her at Sterenberg.2@osu.edu or connect with her on Twitter (@maryIV) or LinkedIn.