Chapter 6: Setting an Up Front Social Strategy
The center of the Social Media Strategy Wheel is audit/discovery – an analysis of a brand, including its social channels and what it shows on that very public face. Hootsuite offers a social media audit template and guide with suggestions on what to evaluate and how to organize the results. A realistic understanding of where the brand is and where it wants to be allows you to set goals and objectives specifically for social channels that support or align with a larger framework. It paves the way for development of an up front social strategy.
Let's say a major shoe retailer sets a goal to increase sales by 10 percent over the previous year. With this in mind, the retailer could consider social media as a tool to gain customer insights and provide market research on new potential audiences. Or it could focus on strategically growing its social following as a way to bump up sales since 57 percent of people who follow a brand on social are more likely to buy from them according to Sprout Social. Yet another strategy might be to use social to support its brand as a retailer that provides strong customer service by extending that customer service into the social media space.
Up front strategies tie back to a company's objectives, but the ever-changing digital space also requires an ongoing social listening process that allows brand to flex strategies based on what others are doing and saying. Michalovich says one key is to not just keep an eye on what competitors are doing, but what everyone is doing.
"It's a really crowded space now so there's not really room for error. You're competing with everyone, not just competitors in your industry." And this competition requires strong strategic planning, rather than what Michalovich calls "random acts of social." "Strong strategic planning rather than random acts of social.  -Steve Michalovich" He advises having a buttoned-up strategy and understanding how you're going to communicate with people and the connections you're trying to make with social. "Have a really good analysis of what's going on in the industry and what others are doing to succeed." What are competitors doing? What are successful brands doing? What are new trends and tools?
Oreo sent the tweet below during the 2013 Super Bowl when the power went out in the stadium.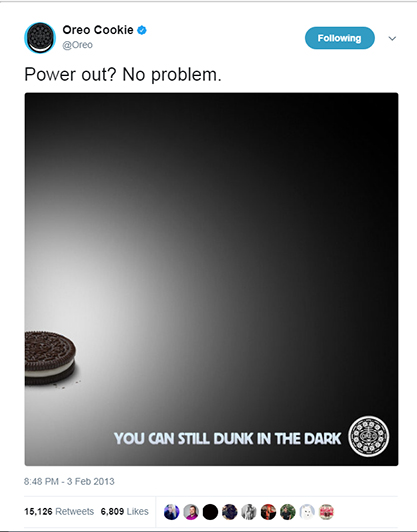 Oreo's marketing and agency team was sitting together in a social media "mission control" center in Manhattan to monitor social chatter during the event. This allowed for the quick creation of the visuals and witty real-time tweet, which generated 10,000 retweets within an hour according to AdAge.com. It also spurred a flurry of conversations in the communication and marketing world about the strategy of real-time marketing. The unexpected black-out gave Oreo a magical opportunity, but it worked because the brand set an up front strategy to monitor social conversation in person during the Super Bowl with decision-makers, creatives, strategists and others in a shared space to allow for quick and relevant responses.
In the video below, Michalovich talks about the importance of intentional strategy in professional use of social media.
Steve Michalovich YouTube Interview
The following example shows how Scott's Miracle-Gro Company used a strong up front strategy on social media to appeal to a new audience and re-position its brand.