Chapter 10: CAD/CAM/CADD/CAE
10.5 Intergraph / Bentley / Dassault

Intergraph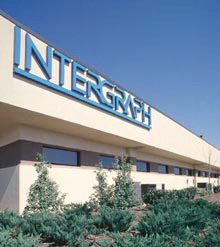 In 1970 M&S Computing was founded by two engineers from the NASA space program. It became known as Intergraph (from Interactive Graphics) in 1980. Intergraph became a publicly owned company in 1981. In the beginning it was a consulting firm that supported government agencies in using digital technology. Among these technologies were application-oriented user interfaces that communicated with users in the language of their applications, rather than in programming terminology. The first Intergraph computer graphics system to apply these computing concepts was used by the federal government for designing printed circuit boards. Composed of unaltered stock parts from various vendors, the terminals consisted of a single-screen Tektronix 4014 display terminal with an attached keyboard and an 11-inch by 11-inch "menu" tablet that provided the operator with a selection of drawing commands.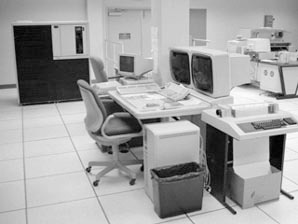 Intergraph grew to be the largest computer graphics company in the world with about 100 offices worldwide and corporate headquarters in Huntsville, Alabama. Its flagship CADD product, IGDS (Interactive Graphics Design Software), was developed in the 1970's. In 1983 Intergraph started shipping InterAct and InterPro. InterAct, with its sculptured surfaces, won two of the three national design awards for new products.  These terminals were powered by VAX and MicroVAX processors from DEC.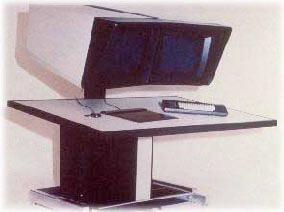 The terminals used microprocessors to control the display of the graphics image locally but still relied on the VAX processor to manage the Intergraph application products that created and manipulated the graphics database. Their first standalone workstation, the InterPro 32 was introduced in 1984.[1]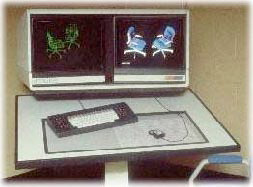 In the 1990s, Intergraph built their products around the PC, powered with Intel processors. Intergraph claimed that after several years of mutually beneficial work, in 1996 Intel began making unreasonable demands for royalty-free rights to Intergraph patents already being used in Intel microprocessors. When Intergraph refused, Intel abused its monopoly power by engaging in a series of illegal coercive actions intended to force Intergraph to give Intel access to the patents.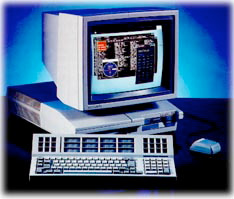 With no other source of suitable high-end processors available and with its hardware business under serious threat because of Intel's actions, Intergraph sought court protection by filing a lawsuit on November 17, 1997. The lawsuit asserted claims against Intel in three areas: illegal coercive behavior, patent infringement, and antitrust violations. Intel and Intergraph settled the suit in 2002. Under terms of the settlement agreement, Intel paid $300 million to Intergraph, the lawsuit was dismissed, the companies signed a cross license agreement, and Intergraph sold certain unrelated patents to Intel.
However, significantly impacted by Intel's punitive actions, Intergraph's ability to compete in the PC and generic server market was impaired. In 1999 Intergraph exited those businesses. Intergraph completed the exit from the hardware business by selling the Zx10 workstation and server product line to SGI and the graphics accelerator business (Intense3D) to 3Dlabs. Intergraph announced its intention to structure all aspects of the company around vertically focused business units that provided technical software, systems integration, and professional services.
In 2001 Intergraph again sued Intel charging Intel with infringement on two Intergraph patents that define key aspects of parallel instruction computing (PIC). This patented technology was developed by Intergraph in 1992 when the company's Advanced Processor Division was designing Intergraph's next generation C5 Clipper microprocessor. In October of 2002 Intergraph won that $150M lawsuit.
Timeline of Intel/Intergraph legal disagreements
1997 – After several years of mutually beneficial work, Intel began making unreasonable demands for royalty-free rights to Intergraph patents already being used in Intel microprocessors. Intergraph filed suit against Intel in an Alabama court, alleging patent infringement, antitrust violations, and illegal coercive behavior.
2000 – Due to Intel's actions, Intergraph was forced to exit the hardware design and manufacturing business.
2001 – Intergraph files suit against Intel for infringing on the company's Parallel Instruction Computing (PIC) patents.
2002 – Intel pays $300 million in an agreement to settle the 1997 Clipper patent case. Intel pays Intergraph $150 million to settle the 2001 PIC patent case.
2004 – Intel agrees to pay $225 million to the Intergraph Corporation to settle remaining claims that its Itanium chip infringed on Intergraph's patents. The settlement brings the total amount Intel has paid or will pay to Intergraph to $675 million.
Bentley
Bentley Systems, Incorporated was founded by Keith and Barry Bentley in 1984. The company's first product, MicroStation was based on Intergraph's IGDS product and provided leading-edge CADD capabilities on a personal computer. Originally named PseudoStation, the software developed by Bentley Systems allowed users to view IGDS drawings files without needing Intergraph's software. In 1987, Intergraph Corporation acquired exclusive sales and marketing rights to MicroStation which became a worldwide standard for large-scale engineering projects on all platforms. After Intergraph purchased 50% of Bentley Systems, a new version of MicroStation added proprietary extensions to the IGDS and renamed it DNG. In 1994, the distribution arrangements were restructured and MicroStation marketing and sales were transferred back to Bentley, and the company grew from a software development house to a fully independent business. Their single MicroStation product has expanded into a broad family of over twenty products for plant engineering, building engineering, mechanical engineering, and GeoEngineering.
Dassault
In 1975 Avions Marcel Dassault (AMD), later Dassault Systemes, purchased CADAM (Computer-Augmented Drafting and Manufacturing) software equipment licenses from Lockheed, becoming one of the very first CADAM customers. By 1977, AMD assigned its engineering team the goal of creating a three-dimensional, interactive program, the forerunner of CATIA (Computer-Aided Three-Dimensional Interactive Application). Its major advance over CADAM was the 3rd dimension. In 1984 drafting capabilities were added to CATIA, enabling it to function independently of CADAM. By 1985 CATIA Version 2 contained fully integrated drafting, solid and robotics functions, making it the aeronautical applications leader. By 1988 CATIA Version 3 contained AEC functionality and was ported to IBM's UNIX-based RISC System/6000 workstations. CATIA thus became the automotive applications leader as well.
Founded in December 1993, SolidWorks Corporation introduced the first powerful 3D CAD software available for a native Windows® environment.The product was based on the Parasolid kernal. They have released new major product lines every year since 1995, most recently SolidWorks 2004 software, representing over 285,000 software seats to date. Solidworks received a U.S. patent for the SolidWorks FeatureManager™,now the standard CAD user interface found in every CAD application today.The company was acquired by Dassault Systemes in 1997 for $300M in stock. SolidWorks serves customers in industrial, medical, scientific, consumer educational, technology, and transportation markets.
In 1998, Dassault acquired the French Matra Datavision company, creators of the EUCLID systems for free-form surface modeling, NC control and injection molding simulation. The EUCLID Styler, Machinist, Strim and Strimflow products enhanced the CATIA product in these areas. They later partnered with IBM as a strategic international business partner.
---
Images from this section are from Intergraph promotional documents or manuals. ↵