Chapter 11: CG Production Companies
11.7 R/Greenberg Associates / Blue Sky Studios

R/Greenberg Associates
Started by Robert Greenberg and his brother Richard in 1977, 
R/Greenberg Associates[1] made a CG name for itself "flying" the opening titles for Superman.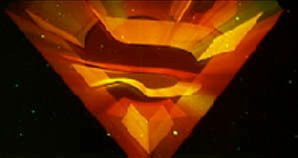 Bob Greenberg's R/GA Digital Studios created work seen in Superman, Zelig, and Diet Coke commercials.The dancing cars in the Shell Oil ads, the flying dagger in The Shadow, and the effects for The Last Action Hero were the work of R/GA Digital Studios, the company behind graphics for over 2,000 commercials and 300 feature films.
At its peak, R/GA had 175 employees and grossed $35 million. Restructured in 1992 to resemble a flexible network of nodes, 
R/GA was made up of seven independent companies. Each specialized in one area of visual imagery, from print to interactive entertainment. If a project used more than one medium, the companies turned to each other for help. The result: a one-stop visual-effects house.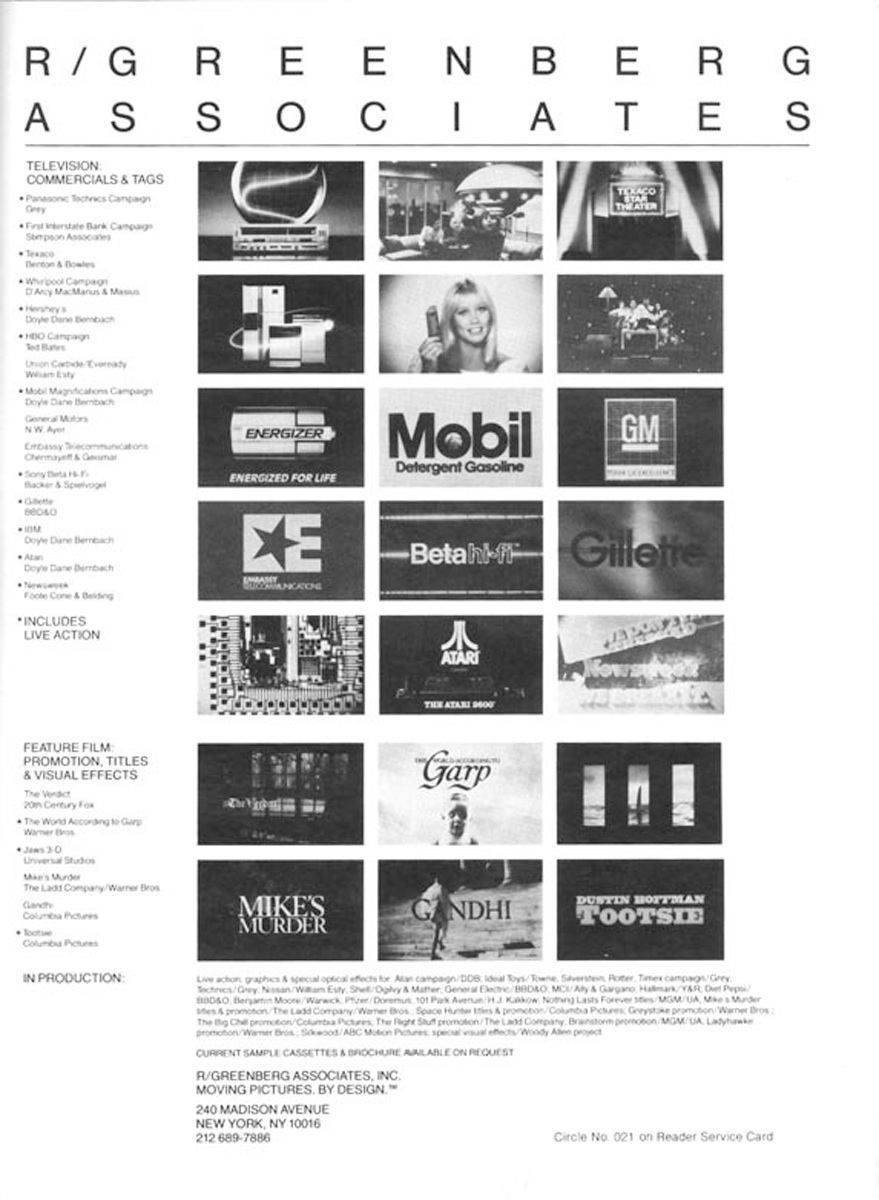 Also in 1992, Bob Greenberg opened RGA/LA to compete with West Coast firms like Industrial Light & Magic. Soon after, R/GA mastered the difficult task of placing a young Clint Eastwood next to President Kennedy for Columbia's In the Line of Fire. But it wasn't the first time Greenberg brought the dead and the living together on celluloid – he'd done it before in Woody Allen's Zelig and in Diet Coke ads pairing Paula Abdul, Groucho Marx, Gene Kelly and Cary Grant.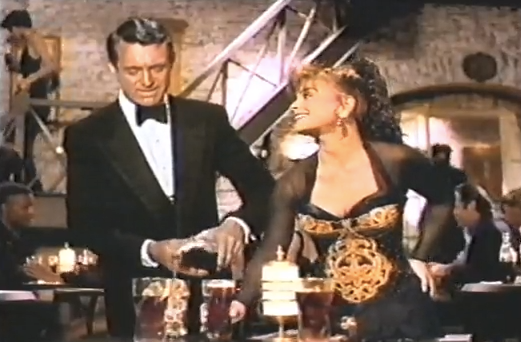 Bringing the dead to life was part of R/GA's next big creative push in advertising. Interactive advertising, according to Greenberg, could benefit from taking celebrity endorsement to the next step, where celebrities communicate with customers on an individual basis, creating a personal dialog. Greenberg negotiated with the estates of famous actors for the rights to reanimate them as high-cachet virtual hosts. The first interactive ad, for Chrysler, was released at Time Warner's interactive test site in Orlando, Florida. Another, for the US Postal Service, is scheduled to follow.
Movie 11.11 Superman Opening Sequence
Blue Sky Studios
"Blue Sky Studios, Inc. was founded in February 1987 by a group of people who had met at MAGI/SynthaVision while they were working on Disney's TRON. Each brought a range of talents and experience that proved valuable in dealing with the emerging business of computer animation. David Brown, the company's current President and CEO, had been a marketing executive with CBS/Fox Video. Alison Brown (no relation), now Vice President of Marketing and Sales, came from advertising and special effects. The company's creative director, Chris Wedge, was an animation artist and teacher. The most unusual member of the group, and the man responsible for the distinctive look of its films, is Eugene Troubetzkoy, who holds a Ph.D. in theoretical physics from Columbia University. He and former NASA engineer Carl Ludwig developed the proprietary software and renderer that give Blue Sky its competitive edge. "
From Ray Tracers: Blue Sky Studios 
By Susan Ohmer, Animation World Magazine
, May 01, 1997
The basic technology used to generate images at MAGI/SynthaVision was "ray casting", sometimes inaccurately called ray tracing, which was developed by MAGI engineer Robert Goldstein in the late 60s. Eugene Troubetzskoy was one of the principal software engineers at MAGI, and he reformulated Goldstein's approach for CGI purposes. When Blue Sky was established, Troubetzskoy implemented a similar approach into the Blue Sky software environment, called CGI Studio. This approach to handling the geometry, coupled with the focus on realistic lighting in the software has allowed Blue Sky to create some of the most stunning imagery in the production industry.
Michael Ferraro oversaw the development of the object oriented language and environment, and Chris Wedge, after returning from Ohio State's graduate ACCAD program, provided much of the artistic direction.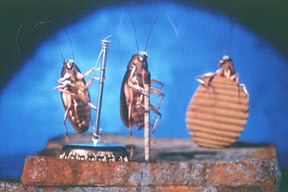 Blue Sky produced animation for advertising and television, and ventured into the film production arena with their effects contribution to the David Geffen movie Joe's Apartment, based on the MTV short film of the same name. They have also produced effects for Fight Club (1999, Fox 2000), Star Trek: Insurrection (1998, Paramount); Alien Resurrection (1997, 20th Century Fox); A Simple Wish (1997, Bubble Factor/Universal Pictures), and Titan A.E.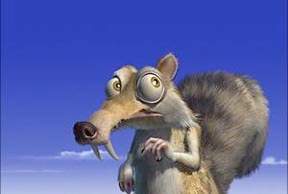 In 1998, Wedge realized a dream in producing a short film entitled Bunny, which earned him an Academy Award for Best Animated Short Film. Bunny showcased the entire approach to Blue Sky's unique image generation environment, producing incredible lighting environments using radiosity approaches. In 2002 they produced the feature length animated film Ice Age, which broke box office records for domestic release.
In 1999, Twentieth Century Fox bought controlling interest in Blue Sky through their effects division, VIFX who they had purchased earlier, and they merged the two to create Blue Sky/VIFX. Richard Hollander, one of the original founders of VIFX/Video Image, was made President of the new venture, and Blue Sky's former President, David Boyd Brown, took on the position of CEO. The company was headquartered in Marina Del Rey, but Blue Sky's New York facility continued to function. They employed a total of approximately 250 people.
In 1999, VIFX was sold to Rhythm and Hues, and Blue Sky reverted to their previous structure as Blue Sky Studios, still under Fox ownership. David Brown passed away in 2003.
http://blueskystudios.com/our-story/
Movie 11.12 Bunny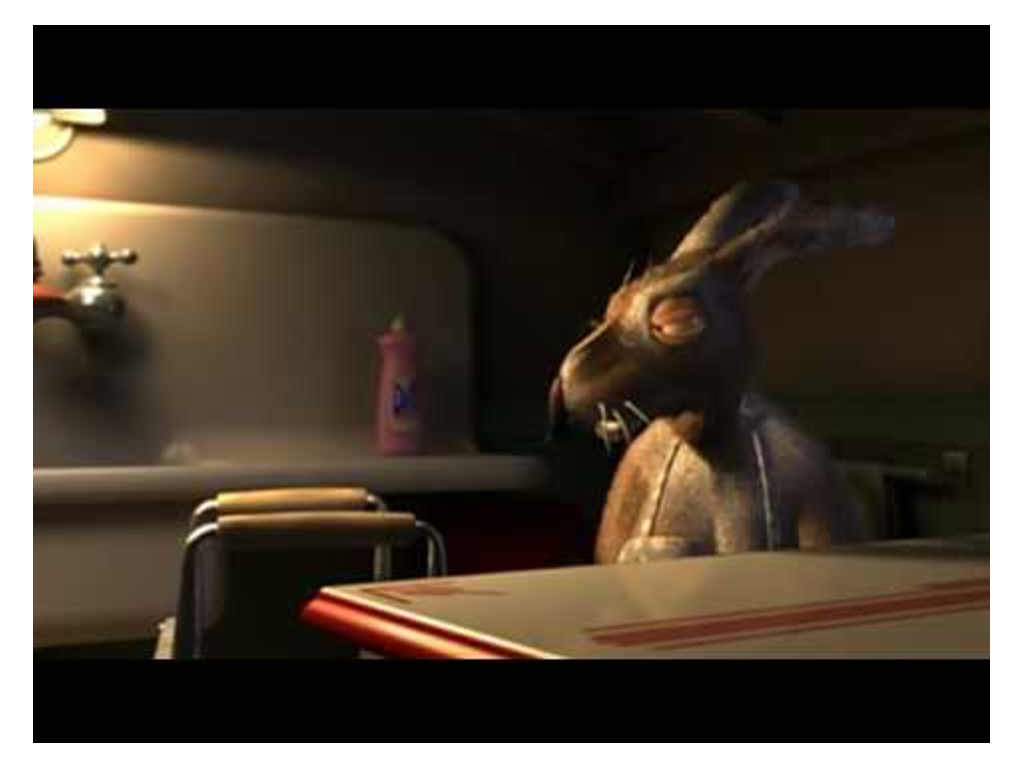 Bunny (1988)
https://www.youtube.com/watch?v=Gzv6WAlpENA
Gallery 11.3 Scenes from Bunny
---
Text extracted from a Wired Online article, Real Virtual, by David Bennahum ↵