Chapter 11: CG Production Companies
11.5 deGraf-Wahrman / Kroyer Films
deGraf/Wahrman
DeGraf/Wahrman was founded in 1987 by former Robert Abel & Associates employee Michael Wahrman and former Digital Productions director Brad deGraf after the folding of DOA. Tom McMahon of Symbolics helped finance the company and provided equipment and software, including a Symbolics 3600 and the suite of S-software.
Brad deGraf studied architecture at Princeton and Mathematics at the University of California at San Diego. He started his career as lead software designer and programmer at SAIC for the US Army National Training Center, and became Head of Technical Direction at Digital Productions before opening deGraf/Wahrman and serving as Director of Production. After deGraf/Wahrman, from 1992 through 1994, he was Director of Digital Media at Colossal Pictures, which he and his partners spun off to create Protozoa.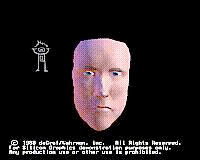 deGraf and Wahrman created Mike Normal, or "Mike the Talking Head", the first live performance of a virtual character. It was shown live at the Electronic Theater at SIGGRAPH 88 in Atlanta. deGraf also created "Moxy" on the Cartoon Network, the first virtual character for television, and Peter Gabriel's Grammy award-winning video, "Steam".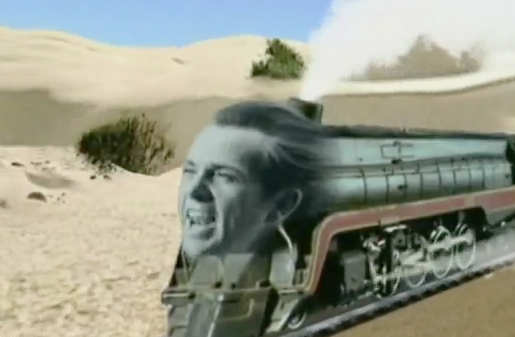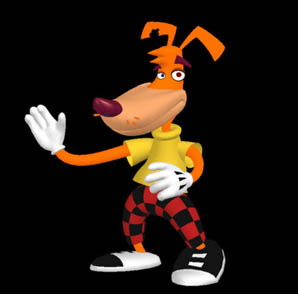 Theme park work included "The Funtastic World of Hanna-Barbera", for Universal Studios Florida, "Journey to the 4th Dimension"in Japan, and "Robocop: The Ride" for Iwerks Entertainment Turbo Tours. He also worked on numerous feature films. He later was founder, and CEO of Dotcomix.
Michael Wahrman worked in computer animation research and production since 1982. He worked at Robert Abel and Associates, where he helped design the production system and engineered the development of the raster system used for High Fidelity. Wahrman worked with Craig Reynolds of Symbolics on the SIGGRAPH 87 film Stanley and Stella – Breaking the Ice, which featured the Boids software developed by Reynolds. Wahrman was awarded an Academy Award for Scientific and Technical Merit for his contributions to the Wavefront Animation System.
His motion picture credits include Starship Troopers, Event Horizon, What Dreams May Come, and the Dream Pictures Studio full-length animated feature film Hopper. He was the senior visual effects advisor on the rebuild of the Hayden Planetarium and to the Digital Galaxy Project of NASA
From a 1988 Computer Graphics World article:
Mike the talking head is a step towards animators being able to directly control their characters rather than drawing their actions. Silicon Graphics and deGraf-Wahrman Inc are working together to produce a new type of animation tool to allow animators to work with their characters in the same manner as puppeteers work with puppets.
The two companies hope to produce a real time, full rendering system with the ability to take input from different sources. The input will be able to change the expression of the character as well as it's colour and the materials it is made out of. The image will be able to be scaled, rotated and distorted, and will be able to mouth words.
To create the original face to work with, a real person, Mike Gribble, was used as a model. His face was scanned in using a 3D digitizer to get about 256,000 points of digital data. These points are converted to polygon data which makes shading of the image possible. To give accurate data without redundancy, the polygons were smaller in areas which required greater detail and larger in the flatter areas, like the cheeks.
The talking component of Mike was achieved by scanning in the real Mike as he mouthed each phoneme. Phonemes are the subparts of words used in pronunciation. To simulate speech, the implementors developed code to interpolate between phoneme positions. Possible input devices include data gloves and speech recognition systems. The glove could be used in a similar manner to a puppeteers hand inside a puppet. The speech recognition system could have Mike mouthing the words as a person speaks into a microphone.
Kroyer Films

Founded by Bill and Sue Kroyer in 1986, Kroyer Films specialized in combining CG and hand animation. Bill Kroyer worked as a traditional animator for Disney in the late 70s and worked with Robert Abel and Associates in 1982.
The studio produced such projects as the animated feature film, FernGully, The Last Rainforest for 20th Century Fox, the 1988 Academy Award-nominated short film Technological Threat and the title sequences for Honey I Shrunk the Kids, Troop Beverly Hills, National Lampoon's Christmas Vacation and the Making of Me for the World Health Pavilion at Epcot Center in Disney World, and the TV series UltraCross.
Other employees of Kroyer included Kendra Haaland (Disney – Hercules) and Kevin Bjorke, who went to ILM and earlier worked with Kroyer at DP/Abel.
Movie 11.7 Technological Threat
https://www.youtube.com/watch?v=PLAGn3isH4o