Chapter 9: Computer Artists
The mid-1960s saw many artists becoming interested in the creative activities at the confluence of art and technology. Previously, most individuals involved in the creation of computer art were in fact engineers and scientists. This was due to several factors: 1) access to mainframe computers, the only kind of computing resource available at the time, was available only to scientists at industrial and university scientific research labs; 2) there was no real interactive software, requiring the scientific programming expertise of the engineers or scientists; 3) the process of art-making on the computer was very algorithmic in nature, which was not necessarily the way traditional artists were used to thinking; and 4) the art community was hesitant to regard the new art form as a reputable or even acceptable art form.
In spite of this, and maybe in part because of this, collaborations between artists and scientists began, and in many cases flourished. It was not without difficulty, however. As Ken Knowlton portrayed the two mindsets:
Artists are illogical, intuitive, and impulsive
Scientists are constrained, logical, and precise
In many cases, the scientists themselves were portrayed as, or at least called themselves artists. In some cases, artists learned the complexities of interacting with the computer and became hybrid in their approach. The first two exhibitions of computer art (at the Wise Gallery in New York and in Stuttgart Germany, both in 1965), were organized by scientists. Most of the submissions, and nearly all of the selections were from scientists. Nevertheless, they were important events in the establishment of computer art as a recognized and eventually an accepted art form.
In 1966, Bell Labs engineer Billy Klüver and artist Robert Rauschenberg founded a formal entity to "develop an effective collaboration between the artist and the engineer." This organization was very important in recognizing the important intersections between the artist and the computer. Called the E.A.T. (Experiments in Art and Technology) it provided an environment that encouraged important artistic creations, including collaborations between contributors such as Kluver, Andy Warhol, Rauschenberg, John Cage and Jasper Johns. Support was in part provided by Bell Labs.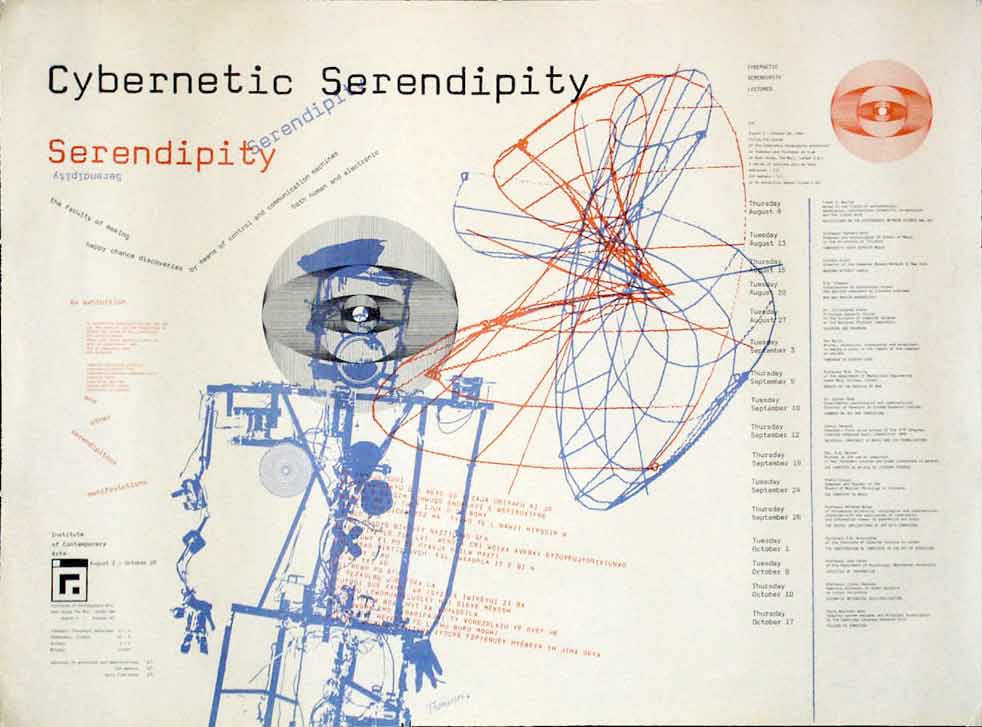 One of the most important early artistic exhibitions of computer art and digital installations was called Cybernetic Serendipity, which was held in 1968 at the Institute of Contemporary Arts in London. Organized by Jasia Reichart, it included most of the important contributors to the technology art world at the time, including Charles Csuri, Michael Noll, Nam June Paik, Frieder Nake, John Whitney, John Cage and others. Although it was not the first computer art exhibition, it is acknowledged as an important milestone in the recognition of this new medium in the art world.
Cybernetic Serendipity ran for two months and featured exhibits from 325 participants from around the world. They showed off the latest in computer graphics and some early computer-composed music. There were robots and drawing machines and the first computer sculpture.
The exhibition was the first of its kind in Britain and the curator Jasia Reichardt wrote that it showed how "man can use the computer and new technology to extend his creativity and inventiveness." It later traveled to Washington, DC and San Francisco between 1969-70.
In several previous chapters, most notably Chapter 4, several pioneering computer artists (Whitney, Laposky, Noll, Csuri, Knowlton, vanderBeek, Foldes, Em, and others) were featured. This section highlights several more artists, representing artistic activities that have contributed to the broader discipline of computer graphics and animation; it is not intended to be an exhaustive treatment of the computer art discipline; that is beyond the scope of this document. I refer you to several sources, including the online Digital Art Museum, Cynthia Goodman's book Digital Visions , and The Computer in the Visual Arts by Anne Morgan Spalter for more information in this regard.
Dietrich, Frank, "Visual Intelligence: The First Decade of Computer Art (1965-1975)", Leonardo, V19 #2, pp. 159-169, 1986
Franke, Herbert, The New Visual Age: The Influence of Computer Graphics on Art and Society, Leonardo, Vol. 18, No. 2, pp. 105-107, 1985.
Jones, Beverly, Computer Imagery: Representation and Realities, Leonardo, International Journal of Science and Art , Computer Art in Context: 1989 A Special Edition Juried by the Special Interest Group in Graphics (SIGGRAPH) Association of Computing Machinery (ACM)31- 38.
Macgregor, Brent, Cybernetic serendipity revisited, Proceedings of the fourth conference on Creativity & cognition, Loughborough, UK
pp, 11 – 13,   2002
Digital Art Museum timeline
http://www.dam.org/timelines/artists
An essay specially written by Mike King for the Digital Art Museum, traces the relationship between the Pioneers of computer fine art and Modern art movements.
http://www.dam.org/essays/king-digital-art-museum-2002
Goodman, Cynthia, Digital Visions: Computers and Art, Abrams, 1987 (published in connection with the exhibition Computers and Art at the Everson Museum of Art in Syracuse, NY, 1987)
Spalter, Anne Morgan, The Computer in the Visual Arts (Addison Wesley) 1999