Chapter 8: Commercial Animation Software
8.2 Wavefront Technologies
Portions of the following history of Wavefront was extracted from corporate historical accounts.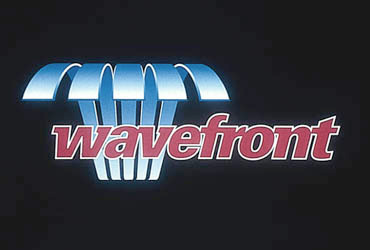 In 1984, Wavefront Technologies was founded in Santa Barbara, California by Mark Sylvester, Larry Barels and Bill Kovacs, who wanted to produce computer graphics for television commercials and movies. Since off-the-shelf software was not available at the time, the founders adapted their business plan to develop and market their own graphic software. Contrary to anecdotes alluding to the founders' fondness for surfing California beaches, Wavefront was actually named after the term which describes the front edge of a wave of light.
During the first year, the company's production department, headed by John Grower (later head of Santa Barbara Studios) created opening graphics for Showtime, BRAVO and the National Geographic Explorer, allowing the new and first software product, Preview, to be modified to meet the needs of animators. Preview was then shipped to Universal Studios to be used on the television series Knight Rider and to Lamb and Company for use in pre-visualizing and controlling a motion camera rig.
In 1985 Wavefront exhibited at its first trade show, NCGA in Dallas, Texas, and participated in the SGI booth (with Alias sitting at the next table) and sold Preview to NBC Television in New York, Electronic Arts (London), Video Paint Brush (Australia), Failure Analysis (Mountain View) and NASA (Houston).
In 1987 Wavefront established an office in Brussels. The Belgian government became an investor and provided capital for the purchase by Wavefront of Abel Image Research (AIR) in 1988. Ironically, in many ways AIR (founded in early 1987) was the predecessor of Wavefront, since founder Bill Kovacs was a principal software developer at Abel. This purchase dramatically increased its penetration into the Japanese market. Another irony of this is that one of the largest customers in Japan is Omnibus, who was responsible for buying and closing the Abel operation through the Omnibus "DOA" fiasco of 1987.
In 1988 Wavefront entered the desktop market with the Personal Visualizer. This software gave CAD users a point and click interface to high-end photo realistic rendering. Co-developed with Silicon Graphics, this product was eventually ported to Sun, IBM, HP, Tektronics, DEC and Sony. The strategy was to bundle the software with every system sold, then follow with module sales into the installed base. In 1989, they continued this thrust into markets beyond the entertainment industry, moving into the scientific community with the Data Visualizer software. This was a highly flexible product for industrial design applications worldwide and built upon Wavefront's reputation for open systems and fast graphics interaction.
In 1990, Wavefront achieved further expansion in Asia. CSK, exclusive reseller of IBM hardware in Japan, became part owner of Wavefront Japan. In 1991, Wavefront launched the Composer product, which provided advanced image production for creating, enhancing and recording high-impact presentations. Composer would become a standard for professional 2D and 3D compositing and special effects in the feature film and broadcast/video arenas. In 1992 they introduced two new products that would have dramatic impact on the entertainment and effects industry. Kinemation, with SmartSkin™, was a complete 3D character animation system for creating synthetic actors with natural motion and muscle behavior. Dynamation was developed by Jim Hourihan (Jim received his first Academy Award for Technical Achievement for the creation of Dynamation), and was a powerful 3D animation tool for interactively creating and modifying realistic, natural images of dynamic events. The resulting images came from the seamless blending of behavioral data and user-specified information describing shape, color and motion. According to Hourihan, Dynamation was developed from a program called 'willy' that was used by a number of LA effects houses for special effects.
In 1993 Wavefront acquired Thomson Digital Images of France (founded in 1984). TDI had innovated in the area of NURBS modeling and interactive rendering and had extensive distribution channels in Europe and Asia. Originally a partner with IBM, TDI also established a commercial production arm, which would later merge with Sogitec to become Ex Machina. TDI's main software product was TDI Explore, a tool suite that included 3Design for modeling, Anim for animation, and Interactive Photorealistic Renderer (IPR) for rendering. (Note: Alias Maya is the result of the merger of the three packages: Wavefront's Advanced Visualizer, Alias's Power Animator, and TDI's Explore.)
In 1994, they partnered with Atari to develop and market GameWare, which became the exclusive game graphics and animation development software for the Atari Jaguar system. Under the terms of the agreement, Atari used GameWare for internal content creation and advised third-party developers to use GameWare as the image and geometry-authoring tool for the new 64-bit Jaguar game system.
Dream Quest Images created over 90 visual effects sequences for the 1994 Crimson Tide movie using Dynamation and Composer. "Since most audience members have never experienced the environment of a nuclear submarine, it was critical to deliver a realistic virtual experience for the viewer," said Mitch Dobrowner, digital department manager at Dream Quest. Wavefront software was also used for other blockbusters, including Outbreak, Aladdin, True Lies and Stargate.
In 1995, Wavefront (who was valued on the market at $119M with revenues of $24M) was acquired by Silicon Graphics, along with Alias, for $500M to form the new Alias/Wavefront venture. It is stated that the purchase was in response to the success in the CG industry of the Canadian company Softimage.
A 1998 article titled The First Wave: The Origins of Wavefront Software is archived at Creative Planet and details the history of Wavefront Technologies.
Movie 8.1 Wavefront Demo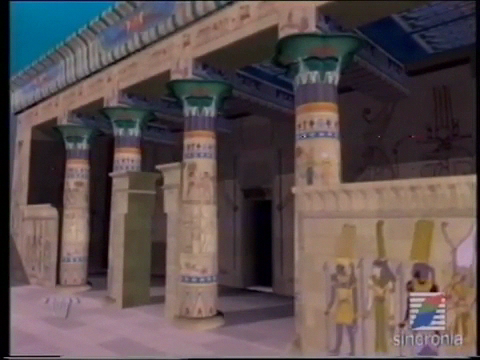 Wavefront Demo (1986)
https://www.youtube.com/watch?v=dolXi-3BcuA
The following is excerpted from a memorial article for Bill Kovacs from Animation World Network (June 2006)
Bill Kovacs, who co-founded Wavefront Technologies, earned a 1997 Academy Award for science and engineering innovations and who worked as a programmer on TRON, passed away last Tuesday at his home in Camarillo, California. Kovacs, who was 56, died of a stroke in his sleep brought on by a cerebral hemorrhage.

In 1984, Kovacs co-founded software company Wavefront Technologies in Santa Barbara, California. He was the company's cto until he left in 1994, when the company went public. In 1995, Silicon Graphics acquired Wavefront. Later, both firms merged with Toronto-based Alias Research to form Alias Wavefront. Wavefront's software was combined with code from Alias Research to create Maya software. Maya, of course, is now a leading computer animation tool owned by Autodesk.

In 1997, Kovacs shared the Scientific and Engineering Academy Award with Roy Hall. The two were recognized for their work in developing Wavefront's Advanced Visualizer computer graphics system.

At Robert Abel & Associates, Kovacs was a programmer for Disney's 1982 feature, TRON, which incorporated early computer animation and paved the away for the 3D revolution.

After working for Wavefront, Kovacs was a consultant to game manufacturer Electronic Arts and Hollywood digital production company RezN8. He also was a founding partner in software startup Instant Effects.

Kovacs helped develop the School of Film and Television at Loyola Marymount University, and was its first visiting artist for technology. Recently, he lectured at UCLA and the Academy of Art University in San Francisco, where he was on the Presidential Advisory Board.